Euratainer carcass cooling leading since 1991

Cooling material that will be rendered allows it to be stored hygienically and safely, and Coolworks has been the world leader in providing solutions for this to be done for more than 25 years.The company's owner-director, Ton Thomasse, says product innovation has been extremely important to Coolworks' success as it continuously responds to the changes accompanying the rapid professionalization of the livestock sector.
Carcass cooling is necessary; there is no doubt about that. In 1991, disposing of carcasses in The Netherlands was a problem because of the waiting time for collections. This resulted in issues with smell, declining quality and carcass contamination – it was extremely unsanitary. The demand for a solution came from Cebeson, the company that would later become Rendac. Its rendering plant was most productive when supplied with high-quality carcasses, but in the summer that proved difficult. It was this situation that led to the creation of Coolworks in Maarheeze.


Challenge
Coolworks saw solving this hygiene problem as a challenge, but understood that a constant temperature of 4C was the answer. That is because if perishable material is cooled to that temperature and maintained at a controlled relative humidity, decomposition can be brought to a virtual standstill. Carcasses and waste for disposal can then be preserved for weeks. In May 1991, the first prototype of the Euratainer carcass cooler was ready, and 60 of the refrigeration units were supplied for a successful field trial with pig and poultry farmers.
The legal requirement to cool carcasses in The Netherlands was introduced in 2000, although many farmers chose to buy carcass-cooling equipment in advance of that obligation. It was at this time that Coolworks decided concentrate on developing its business as a carcass-cooling specialist. The production of durable and high-quality carcass coolers under the Euratainer brand was the objective. Through the years, the Euratainer range has continued to develop, and Coolworks still strives for the best products and the best service.


Warranty
Every Euratainer cooling unit is tested for 6-8 hours before being sold, and comes with a two-year warranty. The carcass cooler simply needs to be installed, connected and started when it arrives at the customer's farm. Experience shows that once the Euratainer is on-site, there is no need to worry about it for a minimum of eight years. Technically, the units are delivered tailored to the needs of users, although small adjustments can be made to fine-tune performance as the farmers gain experience of using the coolers.
The latest-generation Euratainers are weatherproof thanks to their polyester construction. All valves and pneumatic springs are designed to function well even in extreme frost, and the doors are equipped with brushes to avoid the chances of them freezing closed. In summary, everything about the Euratainer's design is aimed at ease of operation.
Today Coolworks sells 34 models of carcass coolers, and the company has grown to become the number one supplier of this type of technology in Europe. The breakthrough on exports came in 2004 thanks to an order from the Danish renderer DAKA. The company decided that the 3,400 or so businesses supplying carcasses for rendering had to get a refrigerated container – at DAKA's expense. This proved a tremendous breakthrough for Coolworks. The move provided fantastic advertising for the Dutch manufacturer, and in one fell swoop it became famous throughout Europe.


Propane
There have been other successes for Coolworks too, such as adopting sustainable cooling using propane instead of Freon – a chlorofluorocarbons (CFCs) that is now banned. This eco-friendly move saw the Euratainer recognized by Greenpeace in 1995 for: energy-efficient cooling; environmentally friendly coolants; and its insulation properties. Perhaps this feather in the company's cap was even the basis for its subsequent breakthrough in the Nordic countries!
Consolidation in agriculture that is leading to larger farms is now the biggest driver for innovation, along side a move away from underground cooling cellars that had proved popular with some farmers in the past. Today's livestock producers want larger bins and carcass coolers to put them in, and Coolworks' 950-litre bins and compatible Euratainers are proving very popular as a solution as they are more hygienic, easier to use and cheaper.
Coolworks' owner, Ton Thomasse, meanwhile, continues to innovate and drive the business forward. By offering demand-oriented solutions, he is ensuring the company will be your partner in carcass cooling on livestock farms for another 25 years.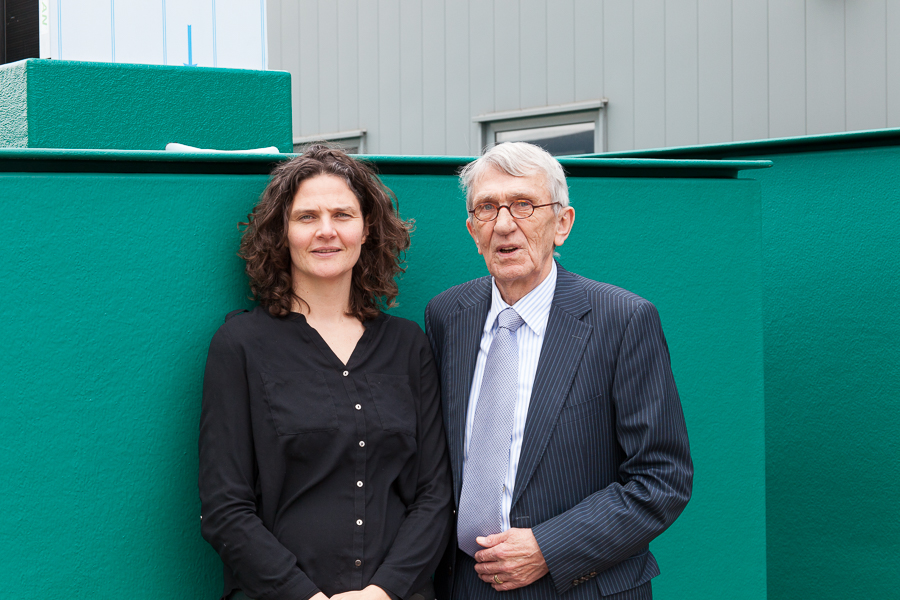 Ton Thomasse and his daughter Floor Thomasse